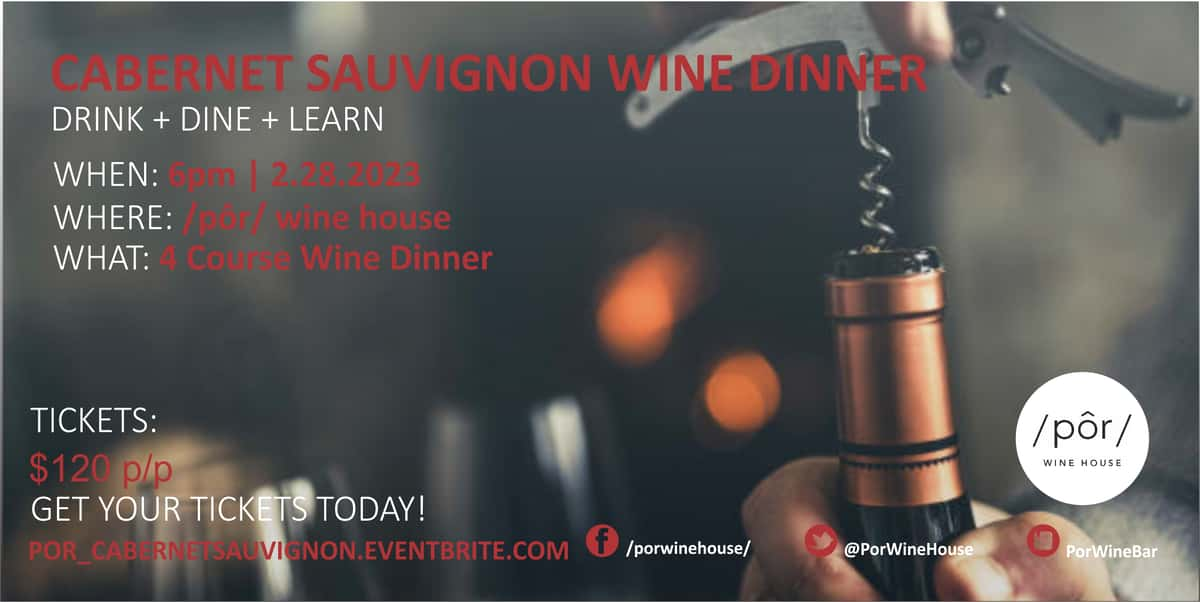 Cabernet Sauvignon wine dinner
Grape of the Month wine dinner - Cabernet Sauvignon
Probably the most famous of all the varieties—Cabernet Sauvignon is King of the grape world. It grows in practically every wine region and is noted for it's concentrated flavors and ability to age gracefully for decades. Its hearty body and tight-knit finely grained tannins make it pair worthy with a variety of foods. Cabernet Sauvignon from the cooler sites in Sonoma, deliver wines of balance and harmony with great texture, characterized by rich black fruit flavors and minty herbal notes with long lasting tannins.
Our monthly Grape of the Month wine dinners include a custom-crafted four- or five-course meal with specially picked single varietal wines included. Prices vary based on menu and the varietal selections that month.
Our wine dinners always promise an unmatched fine dining experience. The evening's wines are selected by the /pôr/ wine house own and sommelier and seamlessly paired with each delectable food course freshly prepared by the skilled hand of our Executive Chef.
Our event staff is gifted in guiding our guests through each food course and wine selection to ensure a deep appreciation of subtle flavor nuances in every bite and sip. Often, Chef will join the fun by describing the preparation of a particular food item. Each wine dinner offers a perfect blend of education and enjoyment. The evening's festivities create a chic but approachable atmosphere that entry-level foodies and seasoned connoisseurs alike can enjoy.
kab-er-nay saw-vin-yawn The world's most popular red wine grape is a natural cross between Cabernet Franc and Sauvignon Blanc from Bordeaux, France. Cabernet Sauvignon is loved for its high concentration and age worthiness.