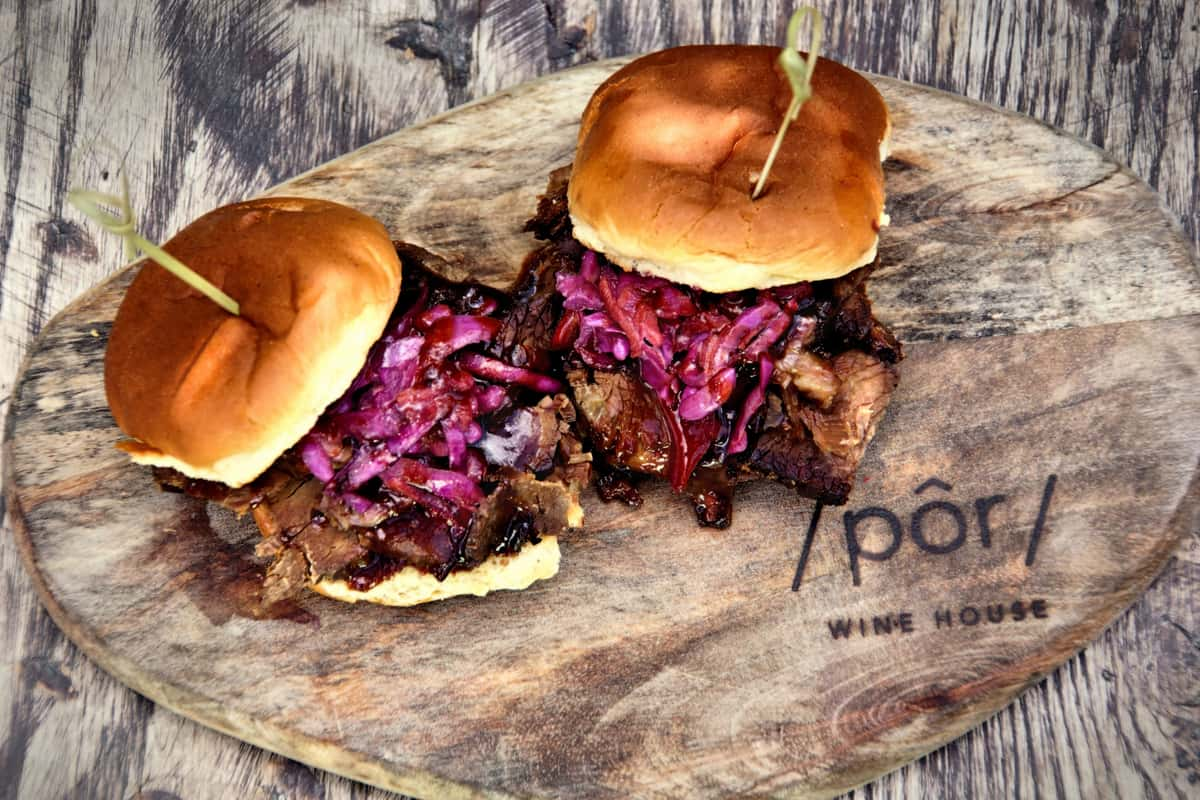 Reservations
LARGE PARTY RESERVATION POLICIES:
Large party reservations (10 or more) are difficult to accommodate given the size of the restaurant; however, we will take as many as possible. All large party reservations during service hours will require a credit card to reserve and must be confirmed the day of the reservation. Our ability to increase the number of diners in a party is very limited. Please assume that if your reservation is at 8 pm or earlier, we have booked a table to follow. A minimum charge of $20.00 (Tax & Tip are excluded) will be required per customer for large parties (10 or more) and $30 on weekends and holidays days.
Non-private large party reservations are available for groups of 10 - 20 guests. With the exception of private events, we are unable to accommodate more than 20 people for a reservation. If you are interested in hosting a private event at /por/ wine house, please click here for more information.
Requests are reviewed in the order in which they are received. Seating arrangements will be made based on availability. Our weekend slots fill up quickly, so we advise you to inquire at least two weeks in advance for Thursday - Saturday reservations.
All reservation requests are subject to availability. If there are any conflicts, we will notify you promptly.
At the time of booking, we require a signed CC authorization form to secure the reservation. Reservation requests will only be confirmed once the signed CC authorization form is received. Your card will not be charged.
/por/ wine house reserves the right to cancel a reservation request if the completed authorization form is not received within 24 hours of the reservation.


EMAIL EVENTS FOR LARGE RESERVATIONS
PLEASE REVIEW OUR LARGE PARTY POLICIES BELOW AND EMAIL EVENTS@PORWINEHOUSE.COM TO INITIATE YOUR LARGE PARTY RESERVATION REQUEST. PLEASE BE SURE TO INCLUDE YOUR REQUESTED DATE AND TIME FOR YOUR RESERVATION AND HOW MANY GUESTS IN YOUR PARTY.
YOU MAY ALSO SUBMIT YOUR COMPLETED CREDIT CARD AUTHORIZATION FORM AT THIS TIME: DOWNLOAD CC AUTH FORM
MENUS:
To ensure a smooth flow of service, groups of 11 or more will need to have menu selections made prior to their arrival. These selections come from the current menu. We will be in touch to request your menu selections 48 hours prior to your reservation.>

Please notify us of any dietary restrictions or severe allergies within the group. With prior notice, we are able to make menu modifications.
Please keep in mind that all dishes on our menu are meant to be shared, and will be served in the middle of the table for all guests to enjoy.
Please be aware that due to the seasonality of certain ingredients, our menu is subject to change.
CANCELLATIONS:
Please confirm your final guest count 24 hours prior to your reservation. Cancellations within 48 hours of reservation time will incur a $20 deposit per guest.

Deposits are only collected if the reservation is canceled within 48 hours prior to the event or if any of the confirmed guests are a "no-show" the day of the reservation without prior notice.

Please be mindful of your arrival time. We are only able to hold your confirmed reservation 30 minutes past your reservation unless we are notified in advance. After 30 mins, we will cancel the reservation and charge the deposit in full.
SEATING:
Outdoor accommodations will be made in either the North Patio or the Fireplace Terrace based on availability and weather. Please include your seating request when initiating your reservation request.

The North Patio can only accommodate parties of 20 or less. The Fireplace Terrace can accommodate parties of 10 - 20.
For groups larger than 20, we offer full or partial buyouts, subject to availability.
All patio reservations are rain or shine.
In the case of inclement weather, our management will do their best to relocate the event based on the other reservations and availability. There is no guarantee that relocation will be possible, and you will not receive a credit nor will your food and beverage minimum be reduced or waived.

Given the limited seating of our restaurant, being 30 minutes late with no contact will void your reservation.
We only seat complete parties (no waiting at the table). Please understand, this is solely due to the size and the seating capacity of the restaurant.
If you are going to be late, we urge you to contact us early so we can make our best effort to accommodate you and your party.
Due to our limited space and demand, a "No call" and /or "No show" will result in a $20 per person charge.
GRATUITY:
A 20% gratuity will be added to the final bill.